Medical Reviewed by Ashwathy V. Pillai, Postgraduate Degree in Dietetics & Applied Nutrition
Quinoa is a superfood, and it is increasingly becoming popular with those trying to lose weight. It is considered a complete food because of high protein and other mineral content.
Weight watchers love Quinoa. Because this superfood has some impressive benefits like it is low in carbs which helps maintain blood sugar level and lower high blood pressure and cholesterol, making it a great dietary addition for diabetics.
Available in red and white grains, quinoa is cooked the same way as rice and is loaded with several health benefits.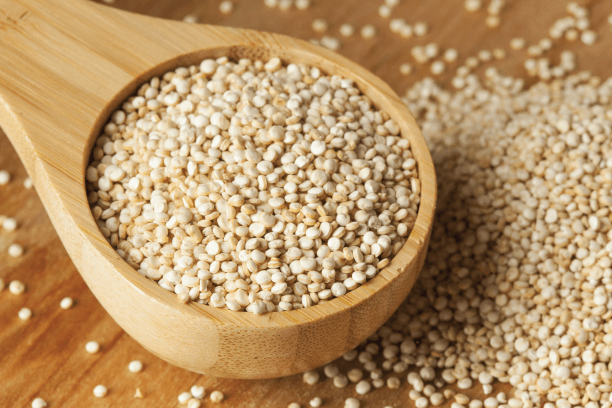 It has successfully taken the centrestage when it comes to breakfast, snacks and desserts option in many households.
According to an agricultural research paper:
"The quinoa is an excellent example of 'functional food' that aims at lowering the risk of various diseases.

Functional properties are given also by minerals, vitamins, fatty acids and antioxidants that can make a strong contribution to human nutrition, particularly to protect cell membranes, with proven good results in brain neuronal functions.

Its minerals work as co-factors in antioxidant enzymes, adding higher value to its rich proteins. Quinoa also contains phytohormones, which offer an advantage over other plant foods for human nutrition."
Here are some of its key benefits:
1. Quinoa is fibre rich and gluten-free
One of the important benefits of quinoa is that it is high in fiber. Fiber is widely known to relieve constipation, prevents heart disease by reducing high blood pressure and diabetes. Fiber lowers cholesterol and glucose levels, lowers the risk of developing hemorrhoids.
Get FREE Health Consultation Today!
It also helps in losing weight because it makes you feel fuller for longer. Yes, quinoa is also gluten-free and is a great alternative to gluten-containing grains.
It is a nutritionally dense whole grain that gives a higher amount of antioxidants than other common grains eaten on the gluten-free diet.
It is also one of the few plant foods that is considered a complete protein. That means it contains the nine amino acids needed to be considered a protein.
2. Quinoa helps control blood sugar
Since quinoa has low Glycemic Index it is essential in controlling blood sugar levels.
It's GI is 53, which is considered low. The glycemic index is a measure of how quickly foods raise blood sugar levels. 
Foods with high GI increases the risk of Type 2 diabetes and heart diseases.
Quinoa also happens to be very high in antioxidants .
Antioxidants are substances that neutralize free radicals and are believed to help fight aging and many diseases.
3. It contains iron and lysine
Iron aids in neurotransmitter synthesis, regulation of body temperature, enzyme activity and energy metabolism.
Quinoa is particularly high in magnesium with with one cup having about 30% of the RDA. Quinoa also contains lysine. Lysine is mainly essential for tissue growth and repair.
4. It helps control headaches and boosts body immunity
Quinoa is rich in magnesium and vitamin B12. Vitamin B12 improves energy metabolism within brain and muscle cells. It also sustain cellular health through oxygenation. 
Magnesium which relaxes blood vessels and alleviates migraines. Magnesium also improves transmission of nerve impulses, regulates body temperature, detoxification, and helps in keeping bones and teeth healthy. 
5. Manganese in quinoa helps in blood circulation
Manganese is an antioxidant, which helps prevent damage of mitochondria during energy production as well as to protect red blood cells and other cells from injury by free radicals.
Quinoa stands tall and proud amongst all its grainy counterparts for its high quantum of nutrients. Low in calories and dense in energy, Quinoa is also renowned for its role in boosting digestion, metabolism and its heart protective properties. 
These 5 reasons should be enough for you to get a pack of this superfood the next time you visit the supermarket.
Here's a recipe to try out: 
For more on health and nutrition, talk to our expert Possible Nutritionist today. The first consultation is on us! Click here to avail!
Get FREE Health Consultation Today!