Cheese, Corn And Mushroom Quesadilla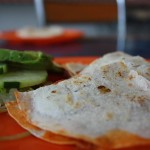 Did you know that Quesadillas can really spice up leftovers? All it takes is slamming stuff on top of each other. However, if you've got unhealthy leftovers, you're not going to be in luck for this recipe. Yes, we've allowed cheese but only in limits. We've ensured that you grab a healthy bite and if you want to know more about this recipe, keep reading…
For The Tortillas
3/4 cup whole wheat flour (gehun ka atta)
salt to taste
1/4 tsp oil for kneading
To Be Mixed Into A Stuffing
1/4 cup grated paneer
1/4 cup boiled sweet corn kernels, lightly crushed
4 tbsp grated slim cheese/ low fat cheese
2 tbsp chopped tomatoes (without the pulp)
2 tbsp chopped red and yellow capsicum
1 tsp finely chopped green chillies
2 tbsp chopped coriander (dhania)
salt to taste
Flour for rolling
1/2 tsp oil for cooking
For the tortillas
Combine all the ingredients in a bowl and knead into a soft dough using enough warm water.Keep it aside covered with a wet muslin cloth for 10 to 15 minutes.

Knead again using oil till it is smooth and divide it into 10 equal portions.

Roll out each portion into small rotis using a little flour for rolling.

Cook each tortilla, lightly on a tava (griddle) and keep aside.
How to proceed
Divide the stuffing into 5 equal portions and keep them aside.

Place a tortilla on a clean, dry surface and spread a portion of the stuffing evenly over it.

Place another tortilla over it and press it lightly.

Repeat the same with the remaining tortillas and stuffing to make 4 more quesadillas.

Just before serving, cook each quesadilla on a tava (griddle) using 1⁄2 tsp of oil till pink spots appear on both the sides.

Cut into equal pieces and serve hot.
Get FREE Health Consultation Today!