Double Beans Recipe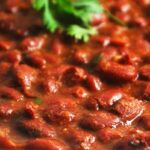 If you're sick of having dal chawal every day, we suggest you try something new. This double bean dinner recipe is rich in protein, fiber, vitamin c, vitamin A, and selenium.
Not just that, all the spices included in this recipe acts as metabolic boosters. Kidney beans and chickpeas aid in digestion as well. So if you're still wondering what to make for dinner, continue reading.
Capsicum(sliced)
50 gms 1 Red Onion(cut into rings)
50 gms Hand Full of Mushrooms (quartered)
50 gms Medium Carrots(sliced)
5 gms Pinch Curry Leaves Dried
1/4 tsp Turmeric
1 inch Fresh Ginger
1 Garlic Clove
Water
5 ml Olive Oil
30 gms Chick Peas (soaked and boiled)
30 gms Red Kidney Beans (soaked and boiled)
A Pinch of Black Pepper
5 gms A Few Fresh Coriander Leaves
First grind the ginger and garlic in a grinder.

Then add the turmeric and a splash of olive oil and mix into a paste.

Heat up both beans in a separate pan.

Fry the onions for a few minutes

Add the chopped carrots and fry for a few more minutes. Then add the curry leaves and ginger paste, mix thoroughly and add a little water to separate it all.

Then add the chopped green peppers, mushrooms and sprinkle ground pepper and cook in medium heat.

Once it looks almost cooked, add fresh coriander and the beans. Cook for a few more minutes.

Voila, your double bean dinner is ready!