High Protein Egg Dosa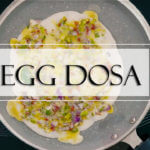 Any high protein recipe has never tasted as good as this egg dosa. High protein egg dosa is an innovative yet discreet way to add some eggs to the recipe. Try this delicacy and we are sure you would love to thank us for this tasty recipe!
2 cups fermented dosa batter (You can use Possible dosa mix / Quinoa dosa mix)
2 tsp oil
3 nos eggs
1/2 tsp chilli flakes
1 tsp chopped curry leaves
2 nos chopped medium onion
1 nos green capsicum chopped
salt to taste.
Method
Beat the eggs and salt.

Add chopped onion, capsicum, chilli flakes, coriander and curry leaves, and beat again.

Heat non-stick tawa on slow fire. Pour ladle full of batter spread into a thin dosa.

Pour the egg mixture on the dosa spread.

Pour 1/2 tsp oil. When one side turns golden brown turn it slowly on the other side. After a few seconds remove from tawa. High protein egg dosa is ready to be served hot with chutney.