Omega 3 Health Shake (Smoothie)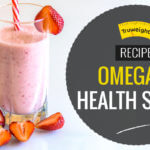 Traditional milkshakes made with ice cream and chocolate can worsen your health. Instead, go for fruit smoothies and shakes that will provide the vitamins and minerals to the body. Strawberry is the most popular smoothie flavor. Although most smoothies share banana as a common ingredient, for milkshakes. But, this super tasty recipe of Possible replaces fruits with nuts. Learn how to make a smoothie that's packed with omega 3 fats!
300 ml Milk
4-6 Almond
2-4 Walnuts
5 gm Flax seeds
5 gm Watermelon
15 gm Chironji seeds
5 gm Peanut butter (optional)
10 gm Unrefined sugar
Method of preparation:
Put all the ingredients in a blender and blend it to a fine consistency.