Paneer Tikka (Dry) Recipe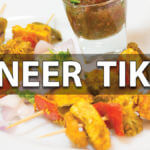 Tikkas and kebabs are a treat for the non-vegetarians. Tikkas and kebabs can't be resisted because of the spices and the tenderness of the meat. For non-vegetarians, this paneer tikka recipe can be served as a starter or as an accompaniment. This paneer recipe is hassle free and a delicious dish that everyone will enjoy. The yogurt and spices are marinated properly and baked in the oven. This recipe can be enjoyed as a snack/chaat or as a meal.
200 grm Hung curd (whipped)
1 tsp Ginger garlic paste
1 tsp Chilli powder
1 tsp Coriander powder
1 tsp Chaat masala
1 tsp Amchur powder
1 tsp Jeera powder
1 tsp Pepper powder
1 tsp Turmeric powder
2 tsp Lemon juice
1 tsp Ajwain seeds
1 tsp Garam masala
1/2 tsp Black salt
Salt to taste
50 g Tomato
50 g Broccoli
50 g Paneer
50 g Onion
50 g Red bell pepper
50 g Yellow bell pepper
50 g Green bell pepper
Method of preparation:
In a bowl, add the spices, yogurt, ginger garlic paste, lemon juice, ajwain seeds, black salt, salt, and mix well.

In the mixture, add the tomatoes, broccoli, paneer, onion, bell pepper and marinate it.

Take a skewer and place the paneer and veggies alternatively on a skewer.

Bake it in the oven and serve.