How do you make Poha?
Red Poha has been a part of Indian food over a century now and with the health benefits it offers, it will continue to be most preferred short eats! Apart from the incredible taste, red rice poha is packed with rich iron and fibre which helps the body in detoxification.
This delightful rice flakes can be used to make a variety of snacks that tingling your taste buds yet gives myriads of nutritive values. This one is especially for those, who are undergoing the Possible Detox Program.
Here's the recipe for healthy red rice poha:
1 cup Possible's red rice poha
1 small carrot grated
1 tbsp Cooked bengal gram (optional)
1 chopped green chilli
1 tbsp chopped spinach
A pinch of asafoetida (Hing)
1/4 tsp mustard seeds
Salt to taste
1 sprig curry leaves
1 tbsp coriander leaves
1 tbsp lemon juice
1 groundnut oil
Soak red rice flakes for 5 Min and then, Put flaked rice in a strainer and keep it under running water for a minute to get soaked.
Shake the grains. Peel and grate carrot, potato and radish.
Season hot oil in a pan with asafetida, mustard seeds and curry leaves.
Add grated carrot, potato and radish.
Add cooked Bengal grams and chopped green chili.
Add the flaked rice and salt to taste. Mix well.
Garnish with coriander leaves and sprinkle lemon juice. Serve hot!
Note:

Q. Which Poha to use thick or thin?

A. Thick poha is used here
Want a bonus recipe? 
How do you make puffed rice?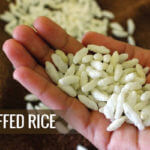 Simple steps to make puffed rice as mentioned below. follow the steps to prepare puffed rice.
Method:
Take 1 bowl of raw rice.
Add oil to a pan and heat it.
Using a sieve add the rice to the boiled oil and shake.
The rice will get puffed now.
Now pull up the sieve and drain the oil.
Keep the puffed rice on a separate plate.
Repeat the same with the rest of the rice.
Puffed rice is now ready.
Also, try this nutritive Thai Style Lettuce Salad for your healthy appetite!
Book A FREE Health Consultation Today!