Everyday Health Drink – Antioxidant Smoothies!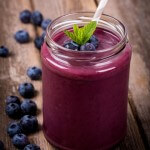 Smoothies are a great way to get fruits and vegetables in your diet. Throw in some pomegranate, a few frozen berries, a banana and voila! You have your Antioxidant Smoothie.
1 cup pomegranate
1 cup mixed frozen berries
1/2 nos banana
PREPARATION:
Combine berries, pomegranate, banana and 1 cup water/ice cubes in a blender; blend until smooth.
Makeover: Instead of berries, you can add 1 cup strawberries or 1 guava or 1 orange.