Do you suffer from any of the following symptoms?
Then, it may be a good idea to show some extra love to your gut. All these issues have their roots in the gut.
All humans are 90% bacteria!
It is reported that there are 10 times more microbes in our body than our own cells. So, we are more microbes than humans. Also, we tend to attribute a lot of good/bad health to our genes. You will be surprised to know that there are more microbes DNA in our body than our own DNA.
So, by changing the quality of microbes in your body, you can change your overall DNA. So, stop blaming your DNA and start showing love to your Gut.
Why should fiber be added to every thyroid diet?
It Lowers Risk of Cardiovascular Concerns
Studies show that when you eat a high-fiber diet, you lower your risk of coronary artery disease and heart attack by as much as 40 percent to 50 percent.
Thyroid disease puts you at a higher risk for heart disease.
It Helps With Weight Loss and Management
Weight gain, difficulty losing weight, and trouble maintaining a healthy weight can be a challenge when you have hypothyroidism. The more fiber you get in your daily diet, the lower your risk of obesity as it keeps you full for long.
It Aids Your Digestive System
Dietary fiber helps control the digestion of other foods, a helpful effect since digestion can be slow when you have hypothyroidism.
It Helps Control Blood Sugar Levels
Eating a high-fiber diet may also decrease your chances of developing type 2 diabetes, a risk that's higher when you have thyroid disease.
Gut: The Second Brain
Gut is so important that it's also called the "Second Brain". It's for no reason that people say "Trust your gut". But trust it only if it's a healthy gut.
The gut-brain connection is very strong. Hence, all mental disorders, anxiety, and depression, also have their roots in the gut.
A Good Gut is also extremely important for achieving ideal weight!
A study was conducted amongst 77 pairs of twins, one of the twins was lean and the other was obese. It was observed that all lean people had more diverse microbes compared to obese siblings. Also, when microbes of obese people were given to mice, they also became overweight.
So, if you are struggling to lose weight and manage high thyroid levels, it's time to show some Gut Love.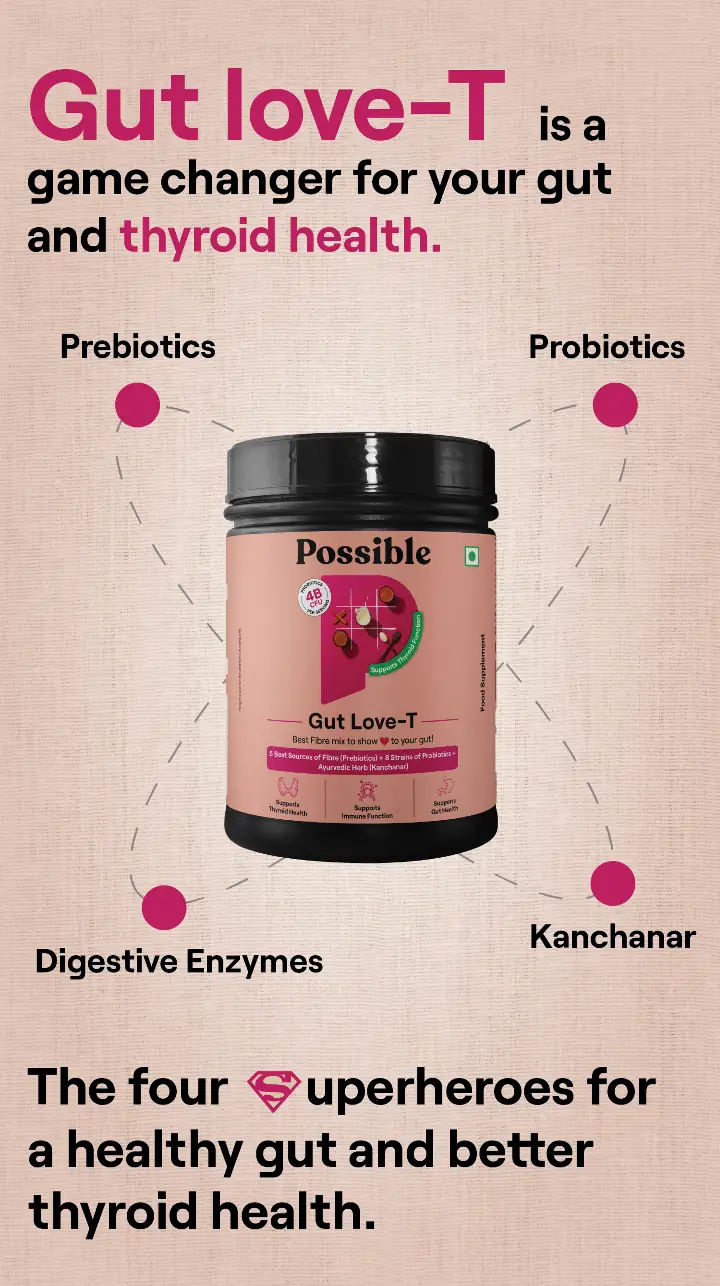 What does the research say about the role of the gut?
Key Ingredients