Banana Stem Salad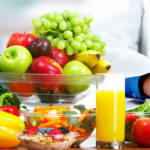 Fancy a fibre treat for that resistant body weight? Well, nothing spells of fibre like the banana stem salad.
Rich in insoluble fibre, the kind that will sit tight in your stomach for a long time, vitamin B6 and potassium (much like its sweet fruit), the banana stem is a treasure trove of nutrients. Try this tasty and crunchy banana stem salad out today!
1/2 cup Chopped Banana Stem or 6 inches
1/2 tsp Mustard
1/4 tsp Hing
1/4 tsp green chili, finely chopped
1/4 tsp finely chopped ginger
1/4 tsp Oil
1/2 tsp Salt
1/4 Lemon to squeeze
1/2 tsp chopped Coriander leaves
Peel the outer shiny skin of the stem. Cut it round & remove the thread. It should wrap around your finger.

In a small Kadai, heat oil and add mustard.

After it splutters, add hing, green chilli & ginger.

Add this to the bowl of chopped banana stem along with salt & coriander leaves.

Squeeze lemon & mix well.
Get FREE Health Consultation Today!