Beetroot Raita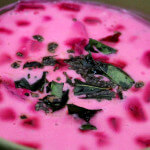 Beetroots is one of the root vegetables with its deep blood red colour. Hence, the common misconception that beetroot helps improve hemoglobin levels. However, beetroot is rich in nitrate and this compound has shown to be protective against dementia, heart disease, high blood sugar conditions. So here is an innovative way to incorporate beetroot in the diet as beetroot raita.
1 cup Low Fat Curd
50 gm Beetroot ((1 no))
2 tsp Seeds Cocktail
1 tsp Roasted Cumin Powder
1/4 tsp Black Salt
1 no Green Chilli
Mint Leaves (For Garnishing) – A few
Method
Combine all the ingredients in a bowl and serve immediately.