Black Bean Vegetarian Chili Recipe!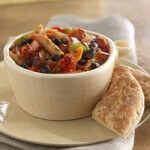 This black bean vegetarian chili is going to have you licking your fingers till the very end.
Packed with so much flavor, the sweetness of the sweet potatoes combines perfectly with the carrots and the spiciness of the fresh chili.
30 grams Black beans
2 Medium carrots (sliced)
2 Cloves
1 Garlic minced
1 Small onion (diced)
2 Small sweet potatoes (peeled and chopped)
1/2 Red bell pepper(chopped)
2 tbsp Olive oil
30 grams Diced tomatoes
1/2 cup Vegetable broth
1 tbsp Chili powder
1 tsp Cumin
1/2 tsp Garlic powder
1/2 tsp Salt
1/4 tsp Black pepper
Sauté onions and garlic in olive oil for a minute or two then add the sweet potatoes, carrots and bell pepper and stir it for about 5-6 minutes.

Reduce the heat to medium low, and add the remaining ingredients, stirring to combine well.

Simmer, partially covered and stirring occasionally. Cook for 20-25 minutes, until flavors are well mixed and vegetables are cooked.

Garnish with coriander and serve.
Get FREE Health Consultation Today!