Caribbean Red Beans & Brown Rice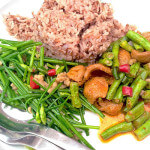 Scared of having rice? Relax, rice keeps you full for a longer time and can help you lose weight if taken in limits. When you add vegetables to brown rice, it can't get any better!
The fibre in vegetables keeps you full for a longer period of time and you stay away from unhealthy calories. Most importantly, brown rice helps to keep blood sugar in control when compared to white rice.
So this is no doubt a healthy choice. Want to know more? Just go through the recipe.
1/2 cup Brown rice
1 tsp Olive oil
2 Bulbs spring onions
1/2 Red pepper
1/2 Yellow pepper
1/2 Green pepper
1/4 cup Corn kernels
1 tsp Freshly cracked black pepper.
Carribean red beans
Wash and soak the rice in water for about 15 minutes then cook it in 1 cup of water on medium heat.

In a frying pan, heat the olive oil and add spring onion. Add pepper and corn kernels. Keep frying until everything gets crunchy.

Add the veggies into the cooked rice and mix it. Add salt and pepper to taste. Add freshly chopped herbs of your choice (parsley/mint, coriander, basil) as a garnish on the platter.

And there it is, your Caribbean red beans and brown rice.
Note: Try different coloured vegetables with your rice each time to increase your intake of a variety of phytonutrients like carrots, broccoli, peas, beans, zucchini, tomatoes, mushrooms….
Get FREE Health Consultation Today!