Channa Dal And Spinach Dhokla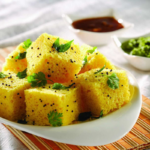 Healthier snack options have a great impact on your fitness and wellness goal. They make your diet plan wholesome and nutritious.
Here we bring you a recipe that is packed with protein, amino acids, iron, vitamins and minerals and several other micronutrients. All thanks to Chana Dal and spinach!
This recipe is not only healthy but super easy to make as well. Check the recipe below!
1 cup Chana dal
1 inch Ginger
5 cloves Garlic
2 Green chili
1 tsp Jeera
1 cup Chopped spinach
1/2 cup Curd
1 tsp White til
1 tsp Til oil
1 tsp Eno
Few Mint and coriander leaves
Salt for taste
Method of Preparation:
Except spinach, til ,oil, and eno , put all the other ingredients in a mixer jar and grind to a fine paste

Pour the paste into a bowl and then mix the chopped spinach and Eno and stir well

Pour this paste to a greased tray or bowl and cook it in steam for approximately 30 minutes

Take out the tray and let it cool down

Cut into desired pieces

Temper it with til oil and white til. And garnish it with fresh mint and coriander leaves

Healthy dhokla is ready serve with green chutney