Creamy Hi-Protein Choco Vanilla Shake Recipe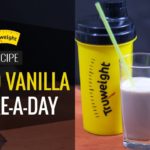 Are you game for a nutritious creamy shake? Possible brings to you this choco- vanilla shake that will help you fulfilling all your nutrient requirements.
How many times have you skipped breakfast, or left lunch half-way, snacked on easily available fried foods or even skimped on that 1 glass of milk a day? This choco vanilla shake is not just tasty but makes you crave for it.
Made with chocolate and vanilla flavored Shake-A-Day from Possible; this is a perfect and a timely answer to your hunger.
filled with the goodness of protein-rich Whey, Casein, Prebiotic fibre gum arabic & beneficial probiotic culture, enriched with vitamins & minerals, designed specially to supplement an adult's diet with essential nutrients & manage hunger pangs.
What's more! It has No added Sugar! So try this delicious whey protein shake today.
1/2 Sachet Choco Shake-a-day
1/2 Sachet Vanilla Shake-a-day
200 ml Milk
Take Choco Shake-A-Day and Vanilla Shake-A-Day in a bowl together.

Add milk and shake it well as shown.

Have your Creamy Hi-Protein Choco Vanilla Shake.
| | |
| --- | --- |
| Component | g per 100 |
| Energy (Kcal) | 435.5 |
| Protein (g) | 20.2 |
| Fat (g) | 11.9 |
| Carbohydrate (g) | 61.9 |
| Dietary Fibre (g) | 25.6 |
| Sugar (g) | 0 |
| Cholesterol (mg) | 0 |
| Sodium (mg) | 202 |
Shake a Day Review:
– Priyanka Gupta(Fitness Blogger)