COTTAGE CHEESE ITALIAN SALAD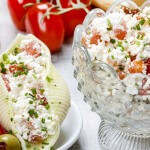 Cottage cheese is subtle and highly nutritious. Most of the dietician, advice to include cottage cheese in the healthy diet plan. Despite of its luscious taste and texture, cottage cheese contains comparatively less calories than processed cheese. It is calcium, protein and prosperous contented which aids weight loss.
Cottage cheese Italian salad fosters the nutritive values of cottage cheese at its best while treating you with creamy Italian flavours.
1 Cup Low-fat Paneer (cottage cheese), cut into 25 mm. (1") cubes
1 Medium onion finely chopped
1/2 capsicum finely chopped
7-8 Tined black olives chopped
1 Cup Chopped lettuces
1/2 Cup Bean sprouts
6 to 8 Cherry tomatoes or tomatoes
For salad dressing
2 tsp Lemon juice
1 tsp Olive oil
1/4 tsp Dried oregano
1 tsp Finely chopped basil leaves (OPTIONAL)
7-8 piece Crushed garlic (lehsun)
1/4 tsp Dry red chilli flakes (paprika)
1/4 tsp Black pepper
Salt to taste
In a non-stick pan take 1/2 tsp olive oil and toss paneer (cottage cheese) for 5 minute in medium flame till it gets light brown, and then add salt.
Mix all the dressing ingredients and other ingredients separately and keep it in the fridge.
Before serving mix all the ingredients with the dressing and serve.
Also, try this Exquisite Health Binding Bread Rolls!
Get FREE Health Consultation Today!