Cucumber Moong Dal Kochumber Recipe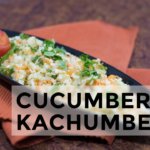 What can be better than a bowl of healthy salad! We present to you yet another tasty salad recipe which combines the protein power from moong dal and the vitamins from cucumber. Adding on to the taste would be grated coconut, rich in medium chain fatty acids. Try this refreshing cucumber moong dal kochumber either as an accompaniment or as a snack option today.
50 gm Cucumber
50 gm Carrot
20 gm Grated Coconut
1 tsp Green Chilli
30 gm Split Urad Dal
Salt – to taste
3 pods Garlic
1/2 tsp Mustard
1 tsp Lemon Juice
1 tsp Coriander Leaves
Method
Take cucumber in a bowl. Add carrot, grated coconut, split urad dal, green chilli, lemon juice and some salt.

Mix them thoroughly.

You are ready to serve your bowl of nutritious salad!