Fruit Sprouted Salad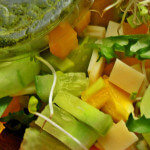 Fruit sprouted salad is a perfect breakfast recipe. Sprouts can be any types of beans or soy. In this recipe, we mix the sprouts with papaya cubes, curd and honey. Keep reading to know more about the recipe.
To Be Blended Into Fruity Dressing
1/2 cup papaya cubes
1 cup low-fat thick curds
1/2 tsp honey
Other Ingredients
1/2 cup boiled mixed sprouts
(kala chana, chawli (cow pea / lobia)
1/2 cup apple cubes, with the skin
1/2 cup pomegranate
2 cup roughly chopped spinach (palak)
salt to taste
Method
    Combine all the salad ingredients in a bowl and refrigerate to chill.
    Just before serving, add the chilled dressing and toss well. Serve immediately.