Gluten-Free Vegan Corn Wrap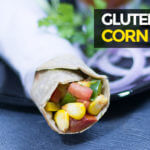 This corn wrap is made gluten-free by the addition of Possible's Gluten Free Atta. Gluten Free Flour is a healthy, gluten-free, guilt-free alternative to traditional wheat flour roti/chapati.
It is made from an assortment of whole gluten free grains like millets, pulses etc.
The bright yellow in corn is indicative of the antioxidant lutein and zeaxanthin. Try this healthy variant of the tortilla and enjoy.
25 gm Sweet Corn (boiled)
25 gm Onion
25 gm Tomato
25 gm Mixed Bell Pepper
A few Coriander Leaves
1/2 tsp Chilli Powder
1 tsp Lemon Juice
A few Green Chillies
1/2 tsp Pepper Powder
Salt – to taste
Take boiled sweet corn in a bowl. Take onion, tomato, mixed bell pepper, coriander leaves, chilli powder, lemon juice, required amount salt, green chilli in it. Mix all of them together.

Make a wrap out of Possible's Gluten Free Roti.

Serve your Gluten-free vegan corn wrap and enjoy.
Get FREE Health Consultation Today!