Green Brown Rice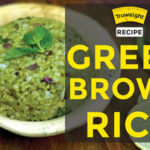 We are super tired of the regular pulao. Time to make it healthy and how do we do so? By incorporating palak and brown rice to make this tasty and nutritious green brown rice.
150 gm Brown Rice (Cooked)
1 cup Coriander Leaves
1/2 cup Mint Leaves
50 gm Onion
2 pc Ginger
2 pods Garlic
2 Green Chillies
3 Clove
1 pc Cinnamon
a few Pepper
1 tsp Cumin Seeds
2 Cardamom
1 tsp Oil
Salt – to tastee
Place coriander leaves, mint leaves, onion, ginger, garlic, green chilli and water in the required amount in a blender. Blend them well.

Now take some oil in a pan and heat it. Add cumin seeds, cardamom, clove, cinnamon, pepper to it and saute.

Add onion, the green spice mix to it with some amount of salt.

Add cooked brown rice to it and cook for 10 mins.

Now you can serve your bowl of healthy green brown rice.
Get FREE Consultation Today!