Nutritious And Tasty Bajra Khichdi Recipe!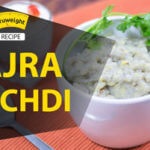 Bajra is one of the healthy whole grain consumed widely in India. It is mostly used to make chapatis as a part of the staple diet. This unique bajra Khichdi recipe brings in a delicious form of bajra that can be enjoyed by the health fanatics.
Bajra is rich in fibres, and so, it greatly helps in eliminating the toxins from your body.
60 gm Bajra
30 gm Moong Dal
1/2 tsp Ghee
1 tsp Cumin Seeds
1/4 tsp Asafoetida
Salt – to taste
Water – as required
Method:
Grind the bajra to a coarse powder in a blender

Combine the bajra powder and moong dal with salt and 2½ cups of hot water and pressure cook for 3 whistles

Heat the ghee in a pan and add the cumin seeds and asafoetida

When they crackle, pour over the cooked bajra khichdi and mix well
 Serve hot with pickle!