Hearty Chicken And Lentil Stew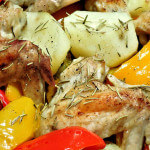 This recipe of chicken and lentil stew is a boon for people looking to increase their protein intake. Lentil stew is easy to digest and it's not that hard to cook as well. Just follow the instructions given below and prepare an amazing dish.
2 tsp olive oil
1 large pieces skinless, boneless chicken (150 gms) 1
1 large onion, finely chopped
1 nos yellow or red capsicum diced
4 nos cloves garlic, crushed
3/4 cup brown lentils/ green lentils
1/2 cups chicken stock
3/4 cup tomatoes
1 tsp ground coriander
1 tsp ground ginger
1/2 tsp dried oregano,1/2 tsp fennel seeds,1 tsp ground cumin
Salt to taste
Directions
Heat the oil in a large nonstick frying pan over moderate heat. Add the chicken and cook for 6 minutes. Transfer the chicken to a plate with a slotted spoon; put aside.

Add the onion, capsicum and garlic to the pan and cook for 5 minutes or until soft. Add the lentils, stock, 1/2 cup water, the tomatoes, coriander, ginger and a pinch of salt, and bring to the boil. Reduce to a simmer, cover and cook for 20 minutes or until the lentils are just barely tender.

Return the chicken to the pan. Continue to boil and reduce to a simmer. Add dried oregano, fennel seeds, ground cumin. Cover and cook for 25 minutes or until the chicken are cooked through and the lentils are completely cooked.