High blood pressure has become a part and parcel of life these days.
In fact, high blood pressure can lead to a number of avoidable health complications like weight gain, stress, diabetes and mounting hospital bills. You should manage your high blood pressure for a healthy life.
Table of Content
Most people are unaware of the relationship between high blood pressure and weight gain. Genetics and lifestyle habits among other reasons are linked to high blood pressure as well as a sedentary lifestyle which also leads to weight gain.
However, the bottom line is that regardless of the causal relationship between high blood pressure and your weight, you need to take it upon yourself stay fit and healthy.
Understanding Hypertension
The only way to beat hypertension is to know more about it. Hypertension or high blood pressure is the term used to describe the pressure that is applied to the walls of the inner arteries.
In order to ascertain whether you have hypertension or not, you need to get two blood pressure readings done one two separate occasions.
Get FREE Health Consultation Today!
Only then can the doctor diagnose whether you are hypertensive or not. So, if you think your blood pressure is on the higher side meet the doctor.
Who's at risk of high blood pressure
Another indicator of whether you are at risk for hypertension is based on your weight.
For those of you who are on the heavier side, overweight, it is quite possible that you may develop hypertension. Studies also suggest that hypertension can cause weight gain as well.
This means that if you have been putting on a few extra pounds then it could be a warning sign that you are hypertensive. Those with upper body and abdominal fat are at greater risk to be diagnosed with hypertension.
Genetics also plays a vital role and you should let your doctor know if any of your family members have been diagnosed with hypertension.
These details might not seem necessary but it is important to share as many details as possible.
This way, the doctor will be taken into consideration these factors in their diagnosis.
Things to consider
According to research studies, a majority of hospital visits that people make each year are related to blood pressure in one way or the other.
Moreover, each year the number of people diagnosed with hypertension is on the rise globally.
This deadly combination is something that must be taken lightly as it can affect your quality of life adversely.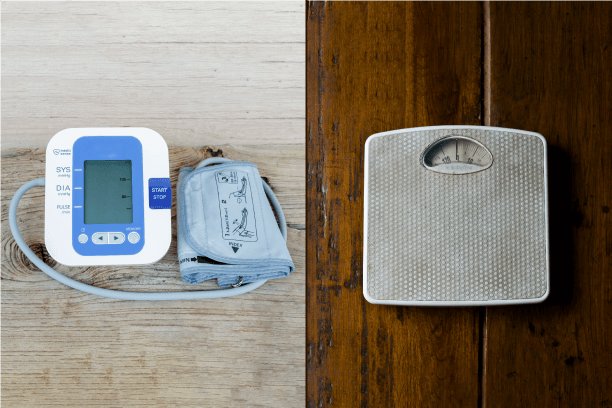 Given the established linked between the two, but weight loss can help bring down blood pressure. In order to bring down your weight, you will have to make lifestyle changes by changing your diet and exercising more.
Select an appropriate diet
The next thing you need to do is select an appropriate diet to bring down both your weight. A popular diet to bring down your blood pressure is the DASH diet which is an acronym for Dietary Approaches to Stop Hypertension.
This diet not only brings down blood pressure but also reduces the risk for heart disease.
The DASH diet comprises of fresh fruits vegetables, fruits, lean meats and whole grains.
It will be helpful to embrace a vegan or a vegetarian diet as it is known to help reduce hypertension and has a multitude of health benefits as well. This is because the amount of fat in the form of sugar, meat, and salt is restricted.
To know more about a free diet consultation with our experts.
 Click Here For FREE  Consultation Today!
Keep sodium levels down
A point that you must keep in mind is to keep the sodium levels down in your diet because it is one of the reasons that can be attributed to elevated blood pressure levels. Even a slight decrease in sodium levels can improve your blood pressure.
As a rule, always read the food label and the amount of sodium it contains before putting it in your cart. It is recommended to stay away from processed food and don't be heavy handed with the salt.
Slowly, but steadily, start incorporating these tips into your diet and it will help you bring down your BP level.
Exercise makes all the difference
Leading an active lifestyle can help keep your high blood pressure in check. Investing 30 minutes of exercise every day can help you lose weight and bring your blood pressure down.
Aerobic exercise, walking, jogging, swimming, and cycling are recommended.
Certain forms of strength training are good for bringing down blood pressure. However, if you are not quite sure about the right exercise plan then you can consider getting a personal trainer who will tailor make a workout as per your health requirements and help you achieve you achieve your ideal body weight.
Stick to the plan
All said and done, it is quite possible that you might develop high blood pressure because of genetic reasons or other factors.
However, what you can do if you are at high risk of developing this condition then you should consider changing your diet and exercise regularly.
Sticking to the plan will keep blood pressure at bay and keep a check on your weight as well. It is not going to be easy but it is worth making the effort to stay fit and healthy.
Check out this video to know more about foods that are good for hypertension:
QUICK BYTES

Can blood pressure be prevented?

Yes, blood pressure can be prevented. A common misconception that a lot of people have is that you can't prevent high blood pressure. An appropriate diet and regular exercise can help you maintain your weight and keep hypertension at bay.

Can Only medicines treat hypertension?

Taking steps to change your lifestyle can create a positive impact on your overall health. Relying on medicine alone will not solve the problem. For this reason, leading an active lifestyle is the best way to beat high blood pressure.

Can the DASH diet help me keep high bp in check?

Yes, DASH diet can help keep your BP in check because it cuts out all the foods that are high in fat, salt, and sodium. These foods are known to elevate blood pressure.

Can losing weight help control high blood pressure?

Yes, weight loss will help you control high blood pressure. However, you should try and maintain a healthy body weight to keep hypertension at bay.

Will cutting down on salt bring down your BP?

Yes, cutting down on salt intake can help you bring down high BP.
Get FREE Health Consultation Today!