Have you been falling prey to the zero-carb concept in order to lose weight? What if I tell you there are high carb foods that can actually help you in weight loss?
Yes, there are many high carb foods that besides housing good carbohydrates are also rich in fibre and proteins that make them essentially good for health.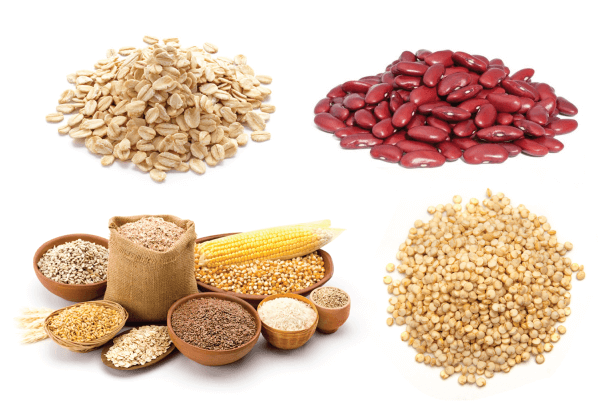 So without delaying further, let me take you through the list of 6 such amazing foods that are high in carbs and even higher in nutrients!
1. Quinoa
With about 39 grams of carbohydrate for one cup of cooked quinoa, this plant food contains every quality to be listed as a superfood. In 2013, the United Nations recognized quinoa nutrition as a factor in "eradicating hunger, malnutrition and poverty".
Quinoa is loaded with dietary fiber, proteins and vitamins. All these factors make quinoa a sought-after food for health as well as for weight loss.
Quinoa is rich in vitamin B which is very helpful for

weight loss

.

The protein and dietary fiber makes quinoa a fulfilling food. This lowers appetite and keeps your hunger at bay.

Quinoa has low glycemic-index that helps the diabetics in balancing their sugar levels and maintaining healthy diets.

Quinoa is low in calories and high in nutrients. Hence a safe option for the diet watchers.
Here's an amazing Quinoa Dal Dhokla Recipe you can totally try!
2. Buckwheat
Buckwheat can be the perfect replacement for your regular atta. Cooked buckwheat contains about 20 % carbohydrates along with the high amount of proteins and fibers.
Buckwheat is also rich in vitamins like Vitamin B-complex as well as Vitamin B2 (riboflavin) and Vitamin B (niacin) as well as in minerals. These make buckwheat a healthy high carb food option.
Buckwheat is low in calories as compared to regular wheat or rice. Hence it is greatly helpful in weight loss.
It also contains fibres that help cleaning the digestive system as well as keeping the stomach full.
How would you like some gluten-free rotis? Check out the Possible Gluten Free atta roti recipe here. It's time we make our food healthy!
3. Sweet Potatoes
The next on our high fiber foods list is sweet potatoes. I call it the healthier sibling of potato. It has low calorie and high water content, making it amazing for weight loss.
One medium sized of cooked sweet potato contains about 21 percent of carbohydrates and 0 percent of fat, making it a suitable high carb food. 
Sweet potatoes are also low in the glycemic index that prevents sugar spikes in people with type 2 diabetes. The dietary fiber in sweet potatoes also helps in regulating the digestive system.
This evening how about some baked sweet potatoes for the family? Check out the recipe below!
4. Oats
Oats are nutritious high carb foods that can make your breakfasts better!
The carbohydrate content of raw oats is about 66%. Moreover, they are low in calories as well as in fat. Oats are also rich in antioxidants and soluble fiber.
The fiber in oats is helpful in reducing LDL and total cholesterol levels. It is also great for satisfying the stomach and hence with a bowl of oats and milk you can feel full for a long time.
We have a perfect Oats porridge recipe to kickstart your day!
5. Bananas
We all know how bananas are great for preventing the hunger pangs. These yellow jacketed fruits are also high in carbs.
With about 27 grams of carbohydrates and only 110 calories for a medium-sized banana, it serves as a great high carb food.
Bananas are also loaded with potassium that helps in regulating blood pressure. And the fiber and fat in them help in blocking the absorption of bad cholesterol which helps in keeping the heart healthy.
Follow the link to know more about this yellow wonder high carb food.
Now that you know high fiber foods aren't that bad and can in fact help in health and weight loss, tweak your diet plans a little bit and sneak in these foods.
If you are looking for diet plan ideas, talk to our experts today. Let them guide you through healthy foods and healthier lifestyle. The first consultation is on us. Click here to book an appointment.