Hummus With Veggies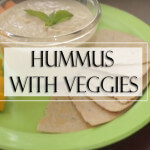 Let us enlighten you about the hummazing beginnings of 'Hummus' which is actually a Middle Eastern dip recipe. Made from mashed chickpeas, the flavour is contributed by garlic, olive oil and lemon juice. We present to you this absolutely finger-licking dip recipe which goes famously well with boiled/raw veggies such as celery, capsicum, carrot, cucumber and the likes. Watch the video and try this super-healthy dip today!
2 cups cooked chickpeas
1 nos lemon juiced
1/4 cup sesame seeds paste / powder
2 nos garlic cloves
1 tsp ground coriander
1/2 tsp cumin
1/2 TSP extra virgin olive oil
salt & pepper to taste
Method: Preparation of cooked chickpeas
Wash 3/4th cup of chickpeas twice. Soak them overnight / 3-4 hrs. Pressure cook them for 4 – 6 whistles.

Puree all the ingredients in blender or food processor. Add some more water while blending if required.

Serve with veggies like celery, bell peppers, cucumber, carrots or with low salt whole grain crackers/ khakra.
Recommended recipes: Protein Shake, Iron-rich wholesome Red Rice Poha, 5-minute healthy vegetable juice.