Khakhra Pizza Recipe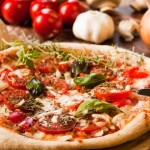 Who doesn't love their margherita and pepperoni pizzas? If you crave for one at an unearthly hour, and are determined to make the healthier choice, the khakhra pizza is your best substitute!
3 pc Possible Khakhra
1 cup curd
2 tsp Ginger Garlic Paste
1/3 tsp Black Pepper
1/2 tsp Boiled Sprouts
50 gm Cucumber
50 gm Capsicum
1/2 tsp Chaat Masala ((optional))
1/2 tsp Lemon Juice
1/2 tsp Lemon Juice
Salt – to taste
PREPARATION:
Put curd in muslin cloth and hang it overnight. Remove in a bowl and whip it finely.

Break khakra into 4 equal pieces.

Place hung curd, sprouts, chopped onion, capsicum and cucumber on khakra add tomatoes for decoration.

Sprinkle salt and lemon juice.

Serve immediately.