Lemon Brown Rice Recipe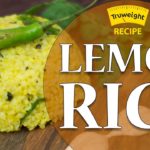 Lemon rice is one of the most popular recipe which is often made in South India.
This recipe of Possible is unique because it is cooked with brown rice which is healthy and serves as a proper nutritious food. The recipe is not only easy to cook but tasty and versatile as well.
1/2 tsp Chana dal
1 tsp Gingelly oil
1 tsp Mustard seeds
3-4 Curry leaves
2 Green chilies
1 tsp Peanuts (roasted and unsalted)
1/2 tsp Turmeric powder
1 Lemon juice
1 cup Cooked brown rice
Salt to taste
In a bowl, add cooked brown rice, lemon juice, salt and keep aside.

In a pan, add oil, mustard seeds, chana dal, curry leaves, green chilies, peanuts, turmeric, and asafoetida.

Add brown rice and saute.