Melon Mint Smoothie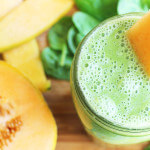 Are you looking for a healthy snack in a glass? This melon mint smoothie is just what you need. With the goodness of yogurt and antioxidant-rich mint, this smoothie is sure to cool you off! Try this recipe and let us know.
1 tbsp fresh lime juice, from 1 lime
2 cups cubed ripe cantaloupe, from about half a medium melon
1/2 cup plain yogurt
10 mint leaves, plus more for garnish if desired
1/2 to 1 tbsp honey (adjust to taste)
Pinch salt
2 ice cubes
Add lime juice, cantaloupe cubes, yogurt, mint, honey, salt, and ice in the blender.

Blend until completely smooth, about 30 seconds.

Serve immediately garnished with mint if desired.
Get FREE Health Consultation Today!