Healthy Mexican Chilla With Quinoa Dal Dosa Recipe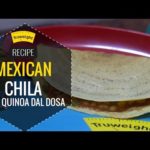 Possible brings to you yet another dosa recipe. This Mexican Chilla with Quinoa Dal Dosa is a sure way to make your lunch times better. Quinoa is a food of high protein quality and is typically regarded as an adequate source of all essential amino acid. Possible's Quinoa Dal Dosa mix is a ready-to-cook dosa mix which is convenient to prepare. Besides Quinoa, it also has nutritious legumes like arhar, urad and moong dal. And adding bell peppers to the recipe not only brings their mild flavour to the dosa but are great sources of vitamin A, vitamin C and vitamin B6. So try out this recipe now and thank us later!
25 gm Quinoa Dal Dosa Mix
50 gm Canned Beans
1 tsp Yellow Bell Pepper
1 tsp Green Bell Pepper
1 tsp Red Bell Pepper
1 tsp Palak Leaves
1 tbsp Tomato Sauce
1/2 tsp Chilli Powder
1/2 tsp Garam Masala
Salt To taste
Water As required
Method
Take a bowl and add yellow bell pepper, green bell pepper, red bell pepper, palak leaves, canned beans, chilli powder, tomato sauce, garam masala, some salt to it.

Mix all of them thoroughly.

Take Possible's Quinoa Dal Dosa Mix in another bowl and add required amount of water to it. And keep the batter for 30 mins.

Take some batter and spread it on a pan, as shown. You are now ready with your dosa.

Put the above mixture on the dosa and wrap it.

Your Healthy Mexican Chilla with Quinoa Dal Dosa is ready to be served.
Get FREE Health Consultation Today!