Mint Rice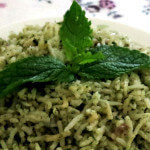 Mint Rice is a great recipe, especially in summers. Mint or pudina is easily available and it's rather easy to prepare a bowl of mint rice.
All you need to do is add some chopped coconut, coriander to brown rice and voila, you have an easy recipe prepared.
For the mint paste:
1 cup chopped mint
1/2 cup chopped coriander leaves
1 to 2 green chillies
1/2 inch ginger
3/4 garlic
1 tbsp chopped coconut
2 tbsp desiccated coconut
1 tsp coriander seeds
1/2 tsp cumin seeds
2 to 3 tbsp water for grinding or add as required
Other Ingredients
1 cup brown rice
2 cloves/lavang
2 small cardamom
1 inch piece of cinnamon
1 medium onion, thinly sliced
3/4 cup heaped cup fresh
1.5 to 2 cups water
2 tsp oil
salt as required
Rinse 1 cup of brown rice and soak the rice in water for 30 minutes.

After 30 minutes, drain the rice and keep it aside.

Meanwhile, when the rice is soaking, prepare other ingredients. Take 1 cup chopped mint leaves, ½ cup chopped coriander leaves, ½ tsp chopped ginger, ½ tsp chopped garlic, 1 or 2 chopped green chilies, 1 tsp coriander seeds, ½ tsp cumin seeds in a chutney grinder or small wet grinder.

Add 2 to 3 tbsp water and grind to a smooth paste. Add more water if required while grinding.

Heat 2 tsp of oil in a pressure cooker. Add the following whole spices – 1 inch cinnamon, 2 green cardamoms, 3 cloves.

Then add sliced onions. about 1 medium onion which has been thinly sliced.

Saute till the onions become golden. Then add the ground mint paste.

Add ¼ tsp turmeric powder and ¼ tsp red chili powder. Stir and saute the masala paste for a minute or two.

Then add ¼ cup fresh or frozen peas and stir.

Add the drained rice and stir gently. The oil should coat the rice grains well. Stir and saute for a minute.

Add 1.5 to 2 cups of water. Stir well. Add salt and stir again.

Cover the lid properly and pressure cook for 2 to 3 whistles till the rice grains are cooked.