Under A Min Mixed Veg Sandwich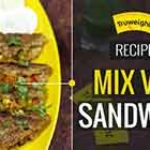 Mixed vegetables is a great idea for many reasons; it provides so much variety and colour to the diet, the presence of many veggies help make up for nutrient sufficiency, you derive the maximum nutrition in one shot.
We are using this to the maximum benefit by making a mixed veg sandwich. Veggies in the sandwich like Bell peppers, onions, tomatoes, corn are rich in vitamin C, an antioxidant vitamin that also helps your body absorb iron from your diet.
So next time you are worried about nutrition and variety, think of this mixed veg sandwich.
25 gm Onion
10 gm Carrot
10 gm Tomato
10 gm Corn
1 tsp Cumin Seeds
1/2 tsp Garlic Paste
2 slice Brown Bread
1 tsp Green Bellpepper
1 tsp Red Bellpepper
1 tsp Yellow Bellpepper
1/2 tsp Chilli Powder
1/2 tsp Garam Masala
Coriander Leaves – a few
1 tsp Lemon Juice
1 tsp Oil
Salt – to taste
Take oil in a pan and add cumin seeds, onion, garlic paste, carrot, corn and tomato. Mix them well.

Add green bellpepper, red bellpepper, yellow bellpepper, some salt, chilli powder, garam masala, coriander leaves and mix them well. Add lemon juice to it.

Now take some of the above mixture and put it on a brown bread and wrap it with another bread as shown.

Heat the sandwich and serve!
| | |
| --- | --- |
| Component | g per 100 |
| Energy (Kcal) | 435.5 |
| Protein (g) | 20.2 |
| Fat (g) | 11.9 |
| Carbohydrate (g) | 61.9 |
| Dietary Fibre (g) | 25.6 |
| Sugar (g) | 0 |
| Cholesterol (mg) | 0 |
| Sodium (mg) | 202 |