Moong Dal And Tinda Curry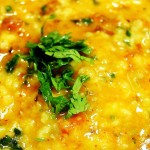 No matter how much you hate 'Ghar ka Khana', there is a reason why most advice revolve around it when it comes to healthy eating. Moong dal has always been an integral part of Indian cuisine and it goes well with both rice and chapatis. It's high in protein and low in carbs, indeed a vegetarian superfood by all means. Wanna learn more about this awesome recipe? Keep reading…
2 nos Tinda
2 nos Red chilli
1/2 tsp Cumin seeds
1 nos Curry leaves-
1 small Onion
Salt-According to taste
1/4 cup Moong dal
Directions to Prepare
Heat oil in a pan and add red chilli, cumin seeds when cumin seeds splutter.

After that, add curry leaves, chopped onions, and salt.

Saute it for 3 minutes then add tinda pieces and some water.

Cook it for some time and then add soaked moong dal.

Put the lid on and let it cook for 5 minutes.

Serve it with chapati.