Muharram embarks the first month of the Islamic calendar [1] that follows the holy month of Ramadan.
The 10th day of the Muharram month is known as the Ashura, during which the Shia Muslims commemorates the death of Husayn Ibn Ali, the grandson of Muhammad and mourn. On this day, the Sunni Muslims however, observe fasting in the honour of Prophet Moses. [2]
Though Muharram has different significance in different parts of the world, the food basically remains similar to all the Muslims.
In honour of this eventful day for the followers of Islam, we bring to you 7 of the amazing Muharram recipes that you can try at your home.
Want to eat healthy but running out of recipes?  Watch our Health recipes playlist here. 
1. Zarda Rice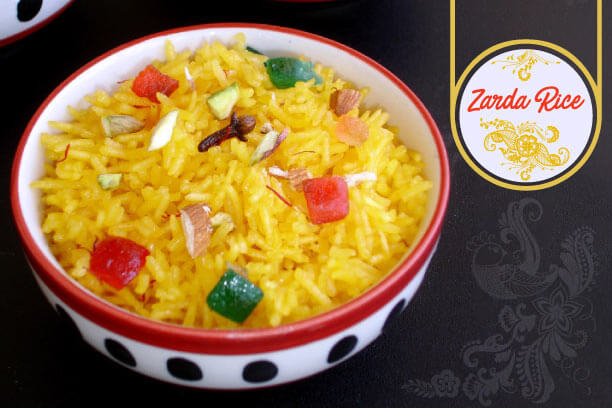 This is one sweet dish that you will find in almost every Muslim household. The ingredients of the recipe can be changed according to your choice of flavor.
Recipe
Ingredients:
Uncooked white rice

Orange food color

Cardamom, vegetable oil

Heavy cream

Tablespoon raisins

Chopped walnuts

Chopped almonds

Grated orange zest
Method:
Soak rice for about an hour.

Boil water with food color and cardamom pods.

Keeping the heat low, stir in the rice and simmer until tender for 20 minutes.

Cook more cardamom pods in oil for about 2 minutes.

Stir in cooked rice and sugar.

Cook for about 5 minutes.

Remove from heat.

Add cream, walnuts, almonds and orange zest to it and serve.
2. Sooji Halwa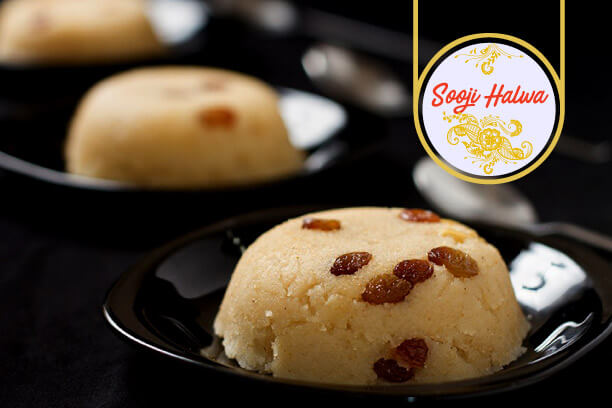 How can any Muslim celebration be complete without halwa? This is yet another famous sweet dish that is not just delicious but also very easy to prepare.
Recipe
Ingredients

:
Sooji, water

Ghee, sugar

Almonds

Cashew nuts

Cardamom powder
Method:
Boil water in a pan over medium heat for about 4 minutes.

Heat sooji in a pan and add ghee to it. Keep the heat medium and cook.

Stir and mix the sooji and ghee.

Roast it until the colour changes to golden brownish.

Add the boiled water to it and stir properly over low heat.

Keep stirring to avoid lump formation.

Cook the mixture until the mixture becomes thick and then add sugar according to you.

Add cardamom powder.

Add almonds and cashews to the semi-solid halwa and serve.
3. Muharram ka Sherbet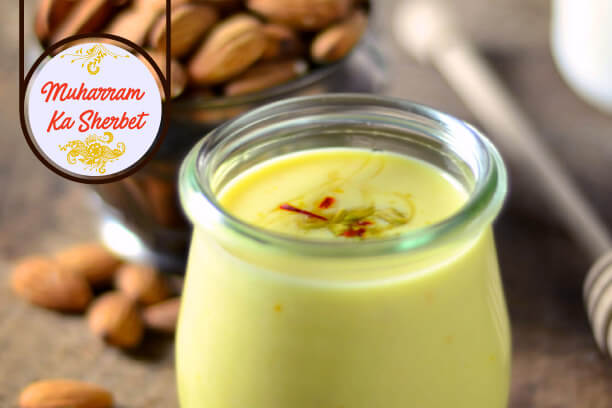 Keep calm and enjoy Muharram ka Sherbet. The battle of Karbala took place on the 10th day of Muharram.
In this battle, Imam Hussain and his followers were deprived of water. In the honour of that sacrifice and tragedy, during Muharram, Muslim people are seen serving this Doodh ka Sherbet.
Recipe
Ingredients:
Milk, water, sugar, almonds, cashew.
Method
:
Boil milk and keep it aside.

Take a pan and boil water in it.

Add sugar to the boiled water and let it dissolve.

Add this sugar-water into the boiled milk with a sieve.  

Add cardamom powder to the mixture.

Take a mud pot and an aluminum lid.

Place an aluminum lid over a stove and place pieces of agarwood on it.   

When the agarwood releases smoke, put the mouth of the mud pot and let the smoke get trapped in it.

Close the pot with a lid.

Now remove the lid and add the boiled mixture into the pot and close the lid. This is to give the sherbet the aroma of agar.

Add cashews and almonds into the pot.

Your doodh ka sherbet is ready.
4. Chicken Haleem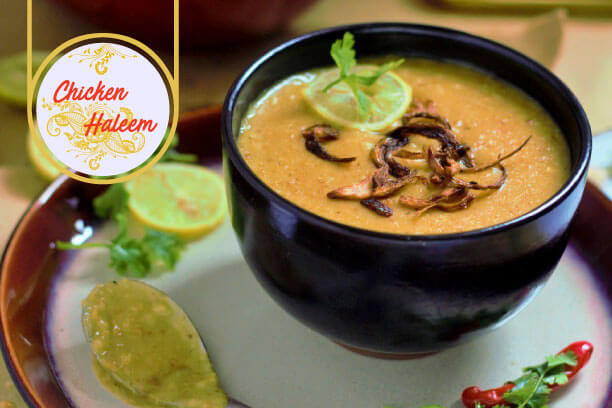 It is a stew dish that is evergreen in Muslim families.
The specialty of this dish is that you can prepare it with mutton, chicken or beef. While the method of preparation almost remains similar, the taste varies from region to region.
Ingredients:
Boneless chicken, Boiled wheat, Boiled moong, Masoor & chana dal, Salt, Turmeric, Bay leaves, Nutmeg mace powder, All spice powder, Crushed cumin, grounded  green chilies, grounded  mint leaves, Ginger garlic paste, Onion, Oil, Lemon for garnish, Coriander leaves for garnish, Mint leaves, finely chopped green chilies, Ginger, Chaat masala.
Method

[3]
Take a pan and add chicken, ginger garlic paste, red chili, turmeric, cumin salt, green chilies (grounded), mint leaves (mint leaves) to it.

Add water and cook keeping the heat low.

When the chicken becomes tender, shred it.

Add to it grounded lentils and wheat.

To it add water and onions (fried) and cook about half an hour. Now mash it.

To the mashed mixture, add spices.

Take oil in a pan and fry onions in it to give tarka to the haleem mixture.

You can garnish the haleem with coriander, lemon, chilies, mint leaves.

Serve
5. Chickpeas Pulao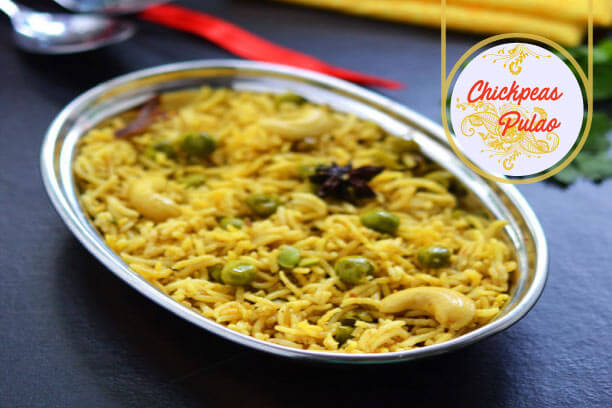 If this Muharram you are looking for a vegetarian delight, check out this chickpeas pulao recipe.
Ingredients
:
Basmati rice, Chickpeas, Onions, Tomatoes, Cinnamon, Cloves, Green chilies, Whole peppercorns, hot spices powder, Cumin seeds, Ginger/garlic paste, Red Chilli, Salt, Oil
Method:
Take a pan and heat oil in it.

Add onions to it and fry until the colour becomes golden- brown.

To it add garlic-ginger paste, green chilies, cinnamon, hot spice powder, salt and red chili powder.

Cook for some time and add water and chickpeas to it. Boil it and add rice to it.

Cook until water is dried.

Your chickpea pulao is ready to serve.

Not enough? 

How about more healthy recipes for this Muharram?
6. Poha Kheer
Kheer is always a popular dish in the Muslim society. So we thought of tweaking the typical kheer recipe and make a new healthier version with the goodness of poha. The red rice poha contains fibre and bran and is also rich in iron. Check out the recipe below.
7. Egg Biryani
Craving for biryani? Here we bring to you egg biryani with the healthy twist of brown rice. Hey, hey, did you just made a face reading brown rice?
Let me tell you this is healthy yet tasty. Serve your friends and family with this Muharram recipe and be a health assured host.
Check out the recipe in the video below
5 Interesting facts about Muharram
After Ramadan, fasting in the month of Muharram is considered very rewarding.
According to hadith, the Angel Gabriel told Prophet Muhammad that the 10th day of Muharram would befall his progeny and that his grandson Hussain would lead the army of the faithful in order to resist tyranny and revive the Islamic ummah. [4] 
The mourning of Muharram is observed for a 10 day period.
Many Shia Muslims mourn on Muharram by beating their hands and chests as a sign of grief.
Did you know that the Prophet Musa used to fast on Ashura and so did the Jews? [5]
Gaining weight during this festive season? Talk to a Nutrition expert now and plan your diet accordingly! Click here to book an appointment today.
Get FREE Health Consultation Today!