How To Make Paneer Stuffed Quinoa Chilla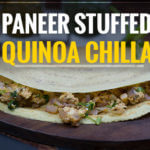 This is another recipe from Possible that can give you dosa goals! This Paneer Stuffed Quinoa Chilla recipe includes Quinoa Dal Dosa mix which is a perfect alternative to traditional white rice dosa. It contains the wonder-grain Quinoa and nutritious legumes arhar, urad and moong dal. Moreover, paneer is a good source of Protein, Vitamin B12, Potassium, Selenium, Vitamin D, Riboflavin, Calcium, and Phosphorus. So try the recipe and enjoy dosas like never before!
70 gm Quinoa Dal Dosa Mix
30 gm Paneer
30 gm Onion
1/2 tsp Oil
1/2 tsp Cumin Seeds
1 tsp Ginger Paste
Salt to taste
1 tsp Green Chilli
1/2 tsp Chilli Powder
1/2 tsp Coriander Powder
Water as required
Method
Take oil in a pan and add cumin seeds, ginger paste, green chilli to it. Saute them.

Add onion, paneer, chilli powder, coriander powder, some salt and coriander leaves to it. Mix them thoroughly.

Take Possible's Quinoa Dal Dosa Mix in another bowl and add the required amount of water to it.

Keep the batter for 30 mins.

Take some batter and spread it on the pan, as shown.

Cook both sides. Your dosa is ready.

Wrap the dosa with the paneer mixture and serve.