Delightful Peas Kadhi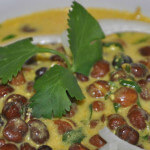 Kadhi, a traditional curry made from buttermilk is already rich in protein. How could we make it even richer? By adding brown chickpeas. Yes! This peas kadhi has the distinct bite and flavour provided by this fibre rich legume. Try it and drop us a comment about it!
1 cup soaked brown chick peas / green peas / fresh peas
1/2 tsp cumin
1/4 tsp mustard seeds
2 nos red chillies
1 tbsp curry leaves
2 tsp ginger & green chilli paste
1/4 tsp turmeric powder
2 cups curd ( preferably slightly sour)
4 tsp besan
2 tbsp chopped coriander
1 tbsp oil
2-3 pinches asafoetida
salt & chilli powder to taste
Method
Heat the oil in a pressure cooker and add the cumin seeds, mustard seeds, curry leaves, red chillies & asafoetida.

When the seeds crackle, add soaked peas / chickpeas, green chilli- ginger paste, chilli powder, turmeric powder, salt & 2 cups of water. Pressure cook it for 2-3 whistles till the chana is cooked.

Beat the gram flour & curds together. Add this curd mixture & 1/2 cup water to the cooked chana and bring it to a boil while strirring continuously. Simmer for 4-5 mins.

Serve hot, garnished with coriander leaves.