Poha Pulao Recipe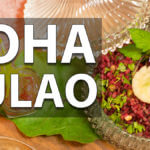 This poha pulao recipe is a twist to the poha variations that is made everywhere. This recipe is made with brown rice which is nutritious as well as healthy. The recipe is simple and tasty which is prepared with brown rice, vegetable, and spices. Try out this recipe that can be made as a snack as well as for breakfast.
1 tsp Oil
1 tsp Mustard seeds
a few Curry leaves
50 gm Onion
2 nos Green chilies
50 gm Frozen peas
50 gm Beetroot
1 cup Red rice poha
2 tbsp Roasted groundnuts
2 tsp Lemon juice
Salt to taste
1 tbsp Coriander leaves
Method of preparation:
Heat oil in a pan, add mustard seeds, curry leaves, onion, green chili, beetroot, peas and shake well.

Then add, red rice poha, salt, groundnuts and saute it.

Add lemon juice, coriander leaves and stir.