Quinoa Dosa Recipe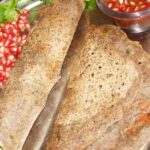 We all love our dosas. And we definitely love experimenting with them. To serve you with a great meal, we bring you this innovative recipe, dosa enchiladas, which combines the nutrition of dosas with the protein-rich stuffing of baked beans.
Originally, enchiladas are made with corn-based tortillas and then stuffed with a lot of cheese. There is some history behind it too.
Enchiladas can be traced back to the Mayan times and hence a popular snack in Mexico. Anyway, Possible has added our own health twist to this tasty Mexican fare! So go ahead and indulge.
For The Stuffing
100 gm Baked Beans
50 gm Onions
1 tsp Garlic
1 tsp Chilli Powder
2 tsp Grated Cheese
A pinch Dried Oregano
1/2 tsp Oil
For The Sauce
50 gm Tomato
50 gm Onions
1/2 tsp Garlic
1 tsp Chilli Powder
1 tbsp Tomato Ketchup
3 tbsp Tomato Puree
1/2 tsp Oil
Salt – To taste
For Dosa
100 gm Possible Quinoa Dosa Mix
Water – As required
Prepare the stuffing with all the ingredients given above and saute well.

In another pan, prepare the sauce.

For the dosa, in a bowl add the quinoa dosa mix.

Add some water to it to make a thick batter. Keep the batter for about 30 minutes.

Put one tablespoon of the batter in a pan

Steam it for 5-10 Mins or until done

Place 1 tbsp of the stuffing on the center of the dosa and then roll it.

Add the tomato masala above the rolled dosa.

Sprinkle the cheese and bake for about 5 mins at 250 degrees.

Your Dosa enchiladas are now ready to serve.