Tasty Quinoa Veg Pilaf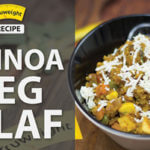 Are you looking for something that is healthy and tasty at the same time? This Quinoa veggie pilaf is a delicious dish rich in protein added with the goodness of veggies. It is quick and easy to make and it can be served as a main dish or as a side dish. Quinoa is gluten free, low in fat, rich in fiber and a good source of protein making quinoa a complete protein rich food. Quinoa is among the least allergenic of all the grains, making it a fantastic wheat-free alternative. With twice the protein content of rice or barley, quinoa is also a very good source of calcium, magnesium, and manganese. It also possesses good levels of several B vitamins, vitamin E, and dietary fibre. Therefore, Quinoa is an excellent choice for vegans who may struggle to get enough protein in their diets.
60 gm Washed Quinoa
50 gm Onion
50 gm Tomato
1 tbsp Green Peas
1 tbsp Carrot
1 tbsp Cooked Corn
50 gm Paneer
1 tsp Turmeric Powder
1 tsp Oil
1 tsp Cumin Seeds
1 tsp Mustard
1/2 pcs Bay Leaf
1 tsp Ginger
1 tsp Chilli Powder
1 tsp Coriander Powder
Salt – to taste
2 tsp Lemon Juice
Coriander Leaves – a few
Method
Take washed quinoa in a pan and add water to it.

Put some salt and some turmeric powder and cook for 15 mins.

Then take some oil in another pan.

Add cumin seeds, mustard, bay leaf, ginger and onion. Stir them properly.

Add tomato, green peas, carrot and cooked corn. Mix them well.

Add paneer to it and then add some chilli powder, coriander powder, some salt.

Mix the cooked quinoa to the above mixture and stir them well.

Add some coriander leaves and some lemon juice. Mix them properly.

You can now serve the tasty Quinoa Veggie Pilaf!