Raw Mango Chutney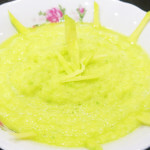 Love the tang of raw mango? We give you the innovative raw mango chutney recipe to spice up your meals and health, all at once.
1/4 Medium Raw green Mango
1/2 nos green chilli seeded and chopped
1/2 inch ginger, chopped
1/2 tsp cumin seeds
1/2 cup chopped coriander leaves
2 tsp sugar
salt to taste
15-20 ml water
Method
Wash raw mango in running water. Peel and cut it into small chunks and discard its stone.

Add mango pieces, green chilli, ginger, cumin seeds, sugar and salt in a grinder jar.

Grind them until it is a medium coarse paste.

Add coriander leaves and 1 tablespoon water; grind to a smooth paste. Serve it as an accompaniment or condiment with snacks and Indian meals.