Healthy Red Rice Kanda Poha Recipe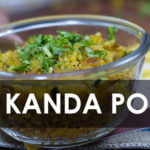 For many Maharashtrians, kanda poha is not just a recipe; it is a culture. Kanda poha is nothing but onion poha prepared in a certain way. Although there could be traditional connections to this feel-good recipe, the white refined poha could throw the weight loss efforts in vain.
There is nothing to worry since Possible has a healthier alternative which doesn't compromise on the taste one bit. We have simply replaced the white poha or flattened rice with red rice poha. Prepared from red rice, this poha is rich in fibre, antioxidants, phytonutrients, phytochemicals, Vitamin E, protein, iron, and other nutrients.
It is believed to be beneficial for the liver, kidney and stomach. When you combine this goodness with the dynamic taste of onion poha, then it is worth the entire effort.
50 gm Red Rice Poha
50 gm Onion
1 tbsp Ground Nuts
2 nos Green Chilli
1 tsp Ghee
Salt – to taste
3 pods Garlic
1 tsp Mustard
2 nos Curry Leaves
1/4 tsp Turmeric Powder
1/2 tsp Chilli Powder
1 tsp Lemon Juice
Coriander Leaves – a few
Take ghee in a pan and add mustard, turmeric powder, curry leaves, green chilli, ground nuts and mix them thoroughly.

Add onion, chilli powder, some salt and soaked red rice poha to it.

Add lemon juice and mix them thoroughly.

Cook for 10 mins.

Add some coriander leaves for seasoning.

You can serve your yummy and healthy red rice kanda poha.
| | |
| --- | --- |
| Energy (Kcal) | 435.5 |
| Protein (g) | 20.2 |
| Fat (g) | 11.9 |
| Carbohydrate (g) | 61.9 |
| Dietary Fibre (g) | 25.6 |
| Sugar (g) | 0 |
| Cholesterol (mg) | 0 |
| Sodium (mg) | 202 |