Healthy Roasted Trail Bhel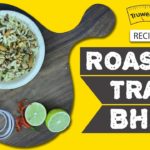 Do you salivate every time you see bhelpuri? And do you stop yourself each time from eating it, thinking about the ill effects that it may bring? Well, to save you from this dilemma, we bring you the Possible's roasted trail bhel recipe. It is a unique dish from the traditional bhelpuri.
Possible's Roasted Trail mix is up to 50% low in fat as compared to traditionally fried snacks and a tasty alternative for snack cravings.
In comparison to other snacks in the market, it is more healthy and unique, as it is a balanced mix of cereal puff, pulses and seeds, with 50% less oil than traditional market snacks.
Roasted trail mix contains millets, pulses, amaranth, nuts and seeds which overall will provide a higher nutritive value. Try out the recipe shown above and make your evening snacking time healthier!
4 tbsp Possible's roasted trail mix
1 tbsp Puffed rice
2 tbsp Roasted almonds, walnuts and ground nuts
1/2 tsp Oil
50 gm Onion
1/4 tsp Turmeric
Curry leaves – A few
2 nos Green chillies
Take a non-stick pot or kadhai and add oil. Saute onions, curry leaves, and chillies till they become crisp.

Add turmeric and then add puffed rice, roasted almond, walnuts, and peanuts. Mix well.

In the end, add roasted trail mix.

Once it has cooled down, keep it in an airtight container and enjoy with Possible's Teatox.