Sambar Recipe Without Oil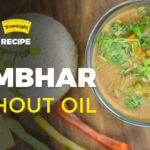 Sambar is a favorite among the South Indians. The sambar recipe is generally a lentil based vegetable stew made with tamarind. This recipe of truweight is a little different from the sambar recipe because it is cooked without oil which is healthy as well as nutritious. Try out this yummy stew recipe for a healthy you!
50 gm Carrot
50 gm Onion
50 gm Snake gourd
50 gm Ladies finger
50 gm Brinjal
50 gmm Drumstick
50 gm Tomato
1/4 tsp Turmeric powder
1/2 tsp Mustard seeds
1 tsp Asafoetida
1 tsp Coriander powder
1 tsp Chilli powder
1 tsp Tamarind water
Method of Preparation:
In a pressure cooker, add the dal, carrots, snake gourd, brinjal, onion, tomato and turmeric powder. Pressure cook it.

Then add coriander powder, chilli powder, jeera powder, tamarind water, asafoetida, and salt.

Boil for 5 mins and serve.