Shake-A-Day Pancake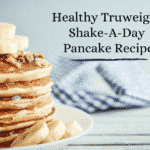 1. Oats are incredible in its nutritious content. Their rich antioxidant properties help boost body immunity. They also help lower cholesterol levels. Oats are also an important food to control blood sugar level.
2. Banana is a good source of potassium and fiber. It provides a strong natural sweetness to the pancakes.
3. Cinnamon is known for its high impacting medicinal properties. It is loaded with antioxidants and also has anti-inflammatory properties. It helps reduce the risks related to heart and also benefits in lowering the blood sugar levels.
4. Flaxseeds are high in omega-3 fatty acids. They contain dietary fiber and loads of nutrients in them. They are also known for its high protein content. Benefits well in your weight loss diet.
5. In addition to the above ingredients, these pancakes also contain Possible's Shake-a-Day superfood. It is a delicious chocolate-flavoured and/ or vanilla-flavoured drink. It is filled with the goodness of protein-rich Whey, Casein, Prebiotic gum acacia fibre
6. Shake-a-day pancakes are ideal for your morning breakfast or even as an evening snack. The pancakes do not contain added sugar and hence can be had in your weight loss diet.
4 tbsp Oats flour
25 gm Possible Shake-A-Day
1 small Banana
1 pinch Baking powder
2 Egg white (or 1 Whole Egg)
2 pinch Cinnamon powder
½ tsp Flaxseed powder
1 tsp Oil/ Butter
1 bowl Fruits to serve
1 tsp Honey/ Maple syrup ((optional))
Mix all the above ingredients, run everything through the blender on medium to low speed until well mixed.

Heat a nonstick griddle to medium heat. Add the batter in small circles. Flip each pancake after cooking for about 2-3 minutes on each side or until the batter starts to bubble.

Top pancakes with fruits and 1 tsp of honey to serve.