Spicy Grilled Baby Corn Kebab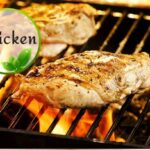 Craving for Kebabs? What if we told you that you can try kebabs even if you are a vegetarian! In this recipe, learn how to make spicy grilled baby corn kebab. A blend of turmeric powder, thick curd and, ginger and mint leaves makes it a perfect recipe for snacking. Looking at the health side of things, baby corn is a good substitute for regular corn because of its glycemic index. It's also rich in potassium and folic acid, hence, making it a great substitute for chips and other evening snacks.
4 nos baby corns
1/2 tbsp thick curd
roasted channa dal powder/corn flour/besan
Salt to taste
1/4 tsp turmeric powder
1/2 tsp red chili powder
1/2 tsp garam masala
salt to taste
1/2 tsp ginger and green chili paste
tbsp mint leaves
1/2 tsp oil
Method
Blanch the baby corns in boiling water with little salt for a few minutes.

Then take them out from the water.

Mix all the ingredients and add blanched baby corn to it. Coat all the corns properly.

Marinate the baby corns for 15 to 20 minutes.

Now preheat the oven.

Place the marinated baby corns on a wire rack. Keep this wire rack on the baking tray to prevent the oven from getting dirty.

Now place this on the upper rack and keep the oven on a broiler mode. Set the temperature to 220-degree celsius for 20 minutes.

When you see the upper portion of baby corn getting dry, turn it to the other side with the help of a tong.

When it becomes dry completely, take out the baking tray. Grill or broil it on the wire rack only, till it gets crispy just like kebabs.

There you go! Your spicy grilled baby corn is ready.