Stuffed Sprouts Paratha Recipe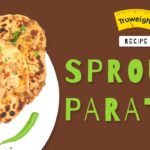 Parathas are a favourite among many. People love it so much that they came up with several versions like Aloo paratha, methi paratha, peas paratha, paneer paratha and so on.
Slightly deviating from the traditional parathas, here we give you a slightly different version – stuffed sprouts paratha.
This paratha recipe made with sprouts is a delicious dish filled with nutrients making it a wholesome meal. This paratha is an ideal meal for breakfast, lunch and dinner.
Check out the recipe below.
100 gm Possible hi-protein atta
50 ml Curd
Salt – according to taste
Water – as required
50 gm Sprouts
few Coriander leaves
1 nos Green chilies finally chopped
2 tsp Ginger garlic paste
Method of Preparation:
In a wide bowl, mix Hi-Protein atta, curd, salt, water and knead it to make form a stiff dough.

In another bowl, add the mixed sprouts, green chillies, coriander leaves, ginger-garlic paste, and salt. Mix it well.

Make small balls from the dough and roll it on the countertop using a rolling pin.

Add 2 to 3 spoons of sprout mixture to the rolled dough and fold it again resembling a ball. Roll the stuffed dough again.

Shallow fry paratha on both sides on a hot griddle with little oil.

Serve hot with sides of your choice.
Get FREE Health Consultation Today!