Stuffed Mooli Roti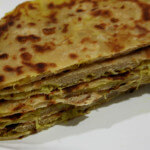 Who doesn't like the good old mooli paratha? The humble mooli or radish provides a healthy dose of vitamins and minerals such as folate, magnesium, riboflavin, potassium, copper, calcium, manganese and fibre. Many reasons to try this stuffed mooli roti today
1/2 cup wheat flour
salt as per taste
1 cup grated radish (mooli)
1 tbsp Finely chopped coriander (dhania)
1 tbsp finely chopped green chillies
oil for cooking
For the dough
Combine all the ingredients in a deep bowl and knead into a soft dough using enough water.

Divide the dough into 4 equal portions and roll each portion into 125 mm. (5") diameter circle using a little whole wheat flour for rolling.

Heat a non-stick tava and lightly half cook the roti and keep aside.
For the stuffing
Sprinkle a little salt over the radish. Keep aside for 10 minutes and then squeeze out the water.
Add the coriander, green chillies and salt and mix well. Keep aside.