Tangy Tomato Brown Rice Recipe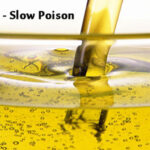 So are you looking for an antioxidant fix in your main meal? Then this tangy tomato brown rice is surely the recipe you are looking for. Rich in anti-aging agent lycopene, tomato rice is rich in flavor and nutrition.We have come up with a tasty and healthy variant of the tomato rice using brown rice! So enjoy this healthy South Indian tomato brown rice for lunch today.
150 gm Cooked Brown Rice
15 gm Onion
50 gm Tomato
1 tsp Ginger Garlic Paste
1 tsp Green Chillies
1/2 tsp Turmeric Powder
1/2 tsp Chilli Powder
1/2 tsp Coriander Powser
1/2 tsp Black Pepper Powder
1/2 tsp Cumin Powder
1 pc Cardamom
1 pc Cinnamon
2 nos Cloves
1/2 tsp Mustard Seeds
1/2 tsp Oil
Salt – to taste
Water – As required
Coriander leaves – for garnishing
Method
In a pressure cooker, heat oil. Keep the flame to a low and add mustard seeds and crackle them. Then add methi seeds (fenugreek seeds) and just lightly saute them for a couple of seconds.

Add finely chopped onion and cinnamon, green cardamoms and cloves. Stir and saute till the onions turn translucent.

Add ginger garlic paste, chopped green chili and curry leaves. Stir and saute till the raw aroma of ginger-garlic goes away.

Now add chopped mint leaves/pudina and coriander leaves/dhania patta. Stir and saute.

Add the finely chopped tomatoes and turmeric powder, red chili powder, black pepper powder or crushed black pepper, coriander powder and cumin powder.

For a lesser spiced version, add ginger-garlic paste, red chili powder and black pepper powder. Stir very well and saute the tomatoes.

The tomatoes should soften and become pulpy with oil releasing from the sides.

Add the soaked rice to the tomato mixture and stir well. Saute them.

Add required water for a softer consistency in the rice. Season with salt as per taste.

Cook well.

Serve tomato rice with a mixed vegetable raita.