Toasted Dahi Sandwich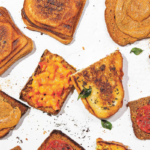 Sandwiches are children's favourite but we get outside is anything but healthy. Ditch the unhealthy versions and switch to this healthier sandwich.
Your children get to eat what they love but with a healthier twist! A win-win situation for both of you!
This recipe is loaded with curd and vegetables that it offers a good amount of probiotics, vitamins and minerals!
1 tbsp yogurt
1 tbsp finely chopped onion
1 tbsp chopped tomato
1 tbsp finely chopped green capsicum
1 green chilly finely chopped
Fresh coriander finely chopped
1 tbsp finely grated carrot
2 slices multigrain bread
1 Pinch red chili powder
Salt for taste
Method of Preparation:
Hang the yogurt overnight or for a minimum of an hour

Mix all the ingredients well with the hung yogurt

Spread between two slices of multigrain bread and toast on an oil-less tava
You can use whatever vegetables you like