Tomato Dhaniye Ka Shorba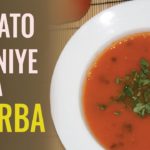 Tomato dhaniye ka shorba is a simple as well as a quick recipe and gets done withing 20 to 25 minutes. This tangy soup is a perfect accompaniment with bread sticks and a comforting food for the winter evenings. If you love juicy tomatoes, you would not want to miss out this tomato soup recipe!
800 gm Fresh tomatoes
550 gm Coriander stock
2 nos Cinnamon stick
8-10 gm Ginger
Black pepper to taste
10 gm Fresh coriander
Rock salt to taste
Method of preparation:
Add the tomatoes in a pan, then add ginger, salt and stir it.

After cooking it for some time add some coriander leaves and stir it.

Let the tomatoes cool and then add it in a blender.

Pour the tomato soup from the blender into a pan and put salt, crushed pepper, chopped coriander and serve.