Tomato Ginger Chutney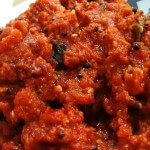 Stuck with a relatively bland food? Add zing to it by making this spicy and tangy tomato ginger chutney. It is so versatile, you could pair this chutney up with sandwiches, dal rice, chapatis and even as salad dressings (mixed with a bit of water). It's healthy too, tomatoes bringing in a healthy dose of lycopene and ginger with its active ingredient gingerol. Need I say more?
2 Tomatoes
1/2 Onion
3 – 4 " (less/ more as per your taste Ginger
1/2 tsp Red chilli powder
Salt to taste
Coriander leaves few
For seasoning
1 tsp Oil
2 tsp Mustard seeds
Curry leaves
Chop tomatoes, onions in big chunks and saute in oil till onions turn golden brown. Allow it to cool.

In a mixie, add the sauteed mixture, finely chopped ginger, along with coriander leaves, red chilli powder and salt.

Heat a pan and temper the chutney with mustard and curry leaves.

Your chutney is ready to be devoured.